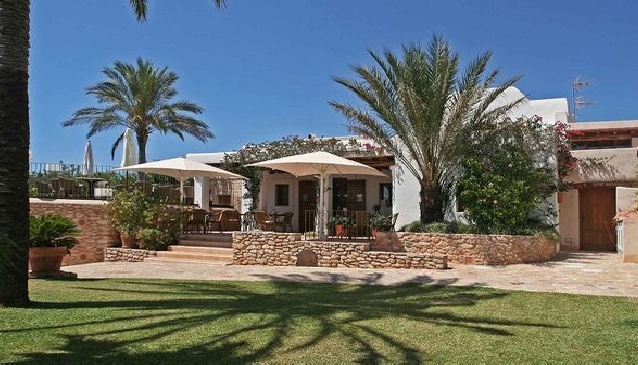 Ibiza Hotels Go Rural
Retreats & Relaxation
Agroturismos really makes you feel immersed in the Ibiza culture...most of them feature pools, too!
While Ibiza more than lives up to her party reputation, there is a more tranquil side to the White Island that should definitely be celebrated. Agroturismo boutique hotels are quickly becoming a firm favourite in the realm of Ibiza accommodation, and for good reason. Booking in for a few nights to an Agroturismo Hotel offers a great alternative to the bustling hotel scene, and all are situated in the most delightful surroundings. Traditional fincas, rural properties like farms or ranches, have been transformed into splendid hideaways nestled in the heart of the Ibiza Campo.
Agroturismos first made it into our accommodation hearts in Italy. Rustic farmhouse accommodation was the standard back then. Ibiza has adopted this style of accommodation and made it entirely her own, and the island now has over twenty-three options from which to choose – if you go by our count on My Guide. Whether it's full blown green adventure at Can Marti, with its nature pool and organic farming, or the traditional and modern fusion that is Can Lluc, this is more than your standard luxury Ibiza accommodation; it's a holiday lifestyle.
The original buildings can often date back as far as the early 1600s, but loving restorations undertaken with the utmost attention to detail are what make these havens so delightfully quaint. We've spent a lot of time on our travels paying visits to the many Agroturismos around the island. It's immediately plain to see that each has its own distinctive charm, and something altogether unique to offer. Cas Gasi grows its own organic produce to use in their restaurant. Others feature their own lounge areas, and many have fully equipped spas, boutique shops, and even business centres, like at Es Cucons. The beauty of Agroturismos is that no two are ever quite the same, each containing much more than can ever be mentioned here. You have to explore to discover it all!
Ibiza hotels range from the cheap and cheerful to the gloriously luxurious. Sometimes there's nothing better than lounging by a pool, soaking up the scorching Ibiza weather with a cocktail in hand, knowing the hotel bar is only a few steps away. Most have prowling waiters so you need never leave the sun bed! But as decadent as these hotels are, they're unable to capture the same spirit as Agroturismos that really makes you feel immersed in the Ibiza culture. Plus, most of them feature pools, too!
Cas Pla in particular is filled with island history and beautiful decorations from around the world. Breathtaking surroundings make these venues absolutely ideal for the perfect Ibiza wedding. Many give you the option to book the entire Agroturismo exclusively for your wedding party, giving all your guests their very own slice of island paradise. Those gorgeous shots of Can Lluc in the springtime are a fabulous example of a modern take on the traditional Agroturismo. It would make the most picture-perfect backdrop to wedding photos that you're ever likely to find.
If you want a sneaky peak of this modern old world charm in full harmony, Tina and Lucas will take the odd public visitor to the restaurant, and, as with many other Agroturismos, a tour of the grounds is always welcomed, and guaranteed to take your breath away.
Main image credit Flickr: Toprural