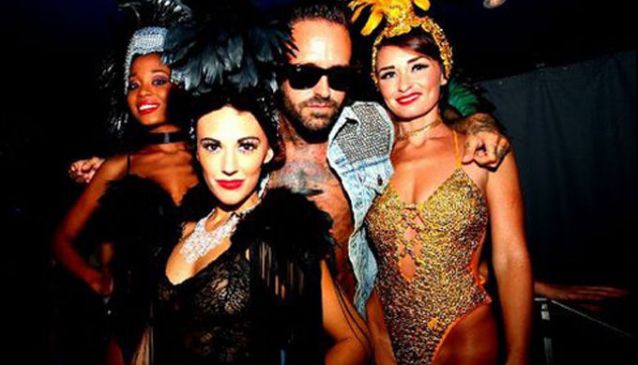 The Ibiza Top Five
Editorial
...underwater caves can be reached by divers...luminescent fish can be seen...
In recent years it has become a rite of passage for a school leaver to take a pilgrimage to Ibiza and experience the 'anything-goes' party culture that it has to offer. Away from parental control (for what could be the first time), a party in Ibiza can be a riotous experience…
Since 2007 the Spanish government has been working on ways to downplay the 16-25 package holiday and to promote Ibiza as a family friendly, relaxing destination. Ibiza is an excellent unknown spot for diving, and diving clubs have been on the island since the eighties. There are also several horse sanctuaries around the island that offer superb guided rides.Here at My Guide Ibiza, we have looked through our comprehensive guide and found you the five best things to do in Ibiza, with things that you just can't miss out on.
For a comprehensive guide to things to do in Ibiza please pay us a visit at My Guide Ibiza.
Ellie Gallagher, My Guide
December 2011
Despite the valiant efforts of the Spanish tourism board, Ibiza is still known by all as the place to party; and with very good reason. The main party season offers partygoers a chance to forget themselves for a short while in one of the great clubs available on the island. Opening parties in May/June and closing parties in October usually bring the biggest crowds with tickets being sold in advance and parties usually going until midday. On a normal night in Ibiza, world famous DJ's host their own nights, like David Guetta in Pacha which is in Ibiza Town and Carl Cox in Space which is in Playa d'en Bossa. Rock Nights party- Faithless Soundsystem for the Rock Party Night, also hold a night in Space where fantastic live music is played.
Party tourists often flock to one of the four big towns on the island: Ibiza Town, San Antonio, Playa d'en Bossa and Santa Eulalia, although as the island is quite small, a night can be started in one area of Ibiza and finish in another. The drinks are expensive in the big clubs, but the spirits are often in generous measures. However, dotted around the island are smaller pubs offering happy hours prices for cheap pre-drinks. If you are looking for a place to chill out before a big night out in Space then Sands, also in Playa d'en Bossa, is the perfect place, with DJs playing in the evening and huge variety of cocktails to chose from.
The Spanish authorities have been clamping down on certain party like behaviours. It is now illegal to sleep on the beach and drink and drug driving now have severe penalties. However, with all clubs open from 12am-6am and some fantastic parties available at New Years Eve (look out for Dc10 which is always the place to be), Ibiza is one party holiday you will never forget.
What to look out for: You just couldn't leave Ibiza without witnessing an amazing sunrise at Punta Grossa in the North after being chucked out of the clubs. Or even join one of our My Guide Sunrise to Sunset Tours where island experts join you on a fun filled day of adventure and picturesque scenery. The local bars and cafés open their doors for the workers at dawn and are a great place to enjoy a traditional breakfast of Pan con Tomate and a carajillo before hitting the sack!
When people want to SCUBA dive they often think of the Great Barrier Reef and the Red Sea, however, if you are looking for something a bit closer to home (or lets face it, cheaper), then Ibiza has some excellent dives available. There are many companies around Ibiza like the Vellmari Diving Centre that offer full PADI training over a week or just a day course that covers theory, practice and a dive.
The aquatic life that swims around Ibiza is a must-see. Seahorses, turtles and all different species of fish can be seen. There are also underwater caves that can only be reached by divers, and if you are night time trained, luminescent fish can be seen around the island. If you are feeling adventurous then there are some spectacular dives around the isles that surround Ibiza such as Isla Es Vedra. In Homer's odyssey Isla Es Verdra is where the sirens lured sailors to their deaths. Although you won't see any sirens today, if you are very lucky you may even see a dolphin.
What to look out for: In July 2007 a large Don Pedro cargo ship sunk here after hitting a reef. After a successful clean up operation, the ferry was opened to recreational divers and this relatively unknown dive is an excellent one to explore.
If someone in your family is obsessed with horses then Ibiza will be the place for them. There are many horse sanctuaries on the island, some even have their horses roaming free to try and re-establish herd instincts. Some like the Can Mayol offer riding lessons to children and also operate summer schools to teach riding, jumping and theory. All ages and abilities are welcomed with anything from a one-hour ride to a two day trek across the island available.
Like the walking tours, horse riding is also an excellent way to see some of the natural beauty that is often overlooked in Ibiza. Many of the horse rides take place through protected forest areas and you can reach places that are not attainable on foot.
What to look out for: Often available with the two hour plus rides, some tour operators, like Ibiza Horse Valley offer a chance to swim with horses. You ride them to the beach, give them a little snack take off their saddles and ride them into the water.
Walking tours around Ibiza let you see some of the wilderness of the Mediterranean that almost feels undiscovered due to the lack of other tourists here. Wild herbs such as romero (rosemary) and salvia (sage) grow along some of these paths along with huge pine trees that cover the island. In fact Ibiza and neighbouring island Formenterea are sometimes named after these pine trees being called Islas Pitiusas or the Pine Islands. There are many companies around the Ibiza to take you on any walk you could want, with varying degrees of difficulty. All have equipment to hire out such as Nordic poles, which are like ski poles to make walking quicker and easier. The walks are often conducted in large groups so it's also a great way to meet people with similar interests on the island. While having your picnic, which are sometimes provided for by the companies, you can sit under the shade of the algarrobos (carob) trees, which populate the island.
Ibiza is also home to two nature parks and in 1999 it was made a World Heritage Site. Be sure to take a trip to the Ses Salinas Nature Park, situated to the south of the island. Here there are huge salt lakes, and in the summer the lakes dry up leaving deposits of salt underneath. The iodine in the air is said to be beneficial to those suffering form arthritis.
What to look for: Like mainland Spain, Ibiza has a long and vibrant history. During the time of pirates, Spain neglected Ibiza in its defence and as a result the Pirate Towers dotted around the island were built. Walks up to these are included in some walking tours.
Cycling is not an activity you usually think of doing while in the Mediterranean. During the summer the scorching weather (temperatures easily get up to 30°C) means that only the hardcore will be able to enjoy the benefits of cycling in Ibiza. But if your holiday is in the winter, where average temperatures are a much more comfortable 15°C, cycling in Ibiza is a very rewarding experience.
Cycling means that you can go more inland and see sights that the average Ibizan tourist won't. There are many companies operating tours in which to take, ranging from challenging routes with rough tracks and forests to easy routes on the quiet roads; but all have a view of the sea. The tour operators have all the facilities to rent a bike and the equipment as well as insurance, photos and a trained guide who knows the area.
What to look out for: If the Ibiza holiday you are on is a special one, some operators provide sunset tours, in which you ride to the top of the highest mountain on Ibiza (which isn't that high, don't worry!) and watch the sun setting over the ocean. During the spring, almendros (almond) trees come into bloom and create a canopy of blossoms to sit under.