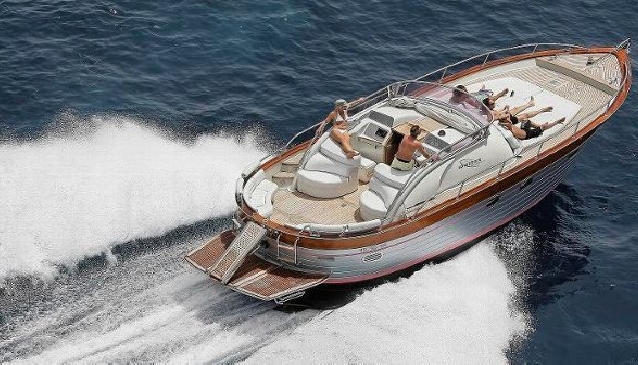 Boating around Ibiza
Adventure
...rich-coloured cushions...a glass of bubbly...breath-taking panoramic view.
The idea of sitting on a yacht and soaking up the sun in the middle of the Mediterranean Sea has long been a quintessential image of luxury, and there is nowhere better to do so than Ibiza. Our island's beaches and coves provide an exotic backdrop that leaves jaws hanging and lungs empty, and taking a boat charter to appreciate them all is one of the best things to do in Ibiza. We here at MyDestination.com/Ibiza have come up with our favourites, just to make you jealous…
The Power and Adventure Experience:
The 26ft Air Rinker Bowrider Sports is one of the best boats out there for adrenalin junkies. Not only does it come fully loaded with water skis, a wakeboard, an inflatable doughnut and its own snorkelling equipment, it also has a large aft sun lounger and handy swim platform for cooling off after a day in the sun. There is even a toilet and outdoor shower on-board!
The semicircular lounge cockpit has a very handy sunshade, perfect for relaxing beneath while enjoying a complimentary glass of frosty beer, chilled wine or refreshing soft drink. The 'Rinker' has space for 12 people, but due to strict EU laws only 9 passengers are allowed on-board at a time, which means there is ample room for you to stretch out and relax. There is also the option of renting the 'Rinker' in tandem for larger groups, so nobody misses out!
Low season price for charter: €595 full day (7 hours) - includes 2 hours fuel; €445 half day (3.5 hours) - includes 1 hour fuel
High season price for charter: €795 full day (7 hours) - includes 2 hours fuel; €495 half day (3.5 hours) - includes 1 hour fuel
The Party Experience:
This one goes out to all the hens, stags and party animals who might be interested in a catamaran large enough to hold themselves and 74 friends for a party which will never be forgotten. The expansive deck has plenty of seating for all, and the trampoline bow is perfect for lounging and relaxing upon while listening to the beats of the on-board DJ, whose services are available for a mere €100. Alternatively, if you prefer playing the role of DJ yourself, bring along your iPod to use with the Pioneer CJD sound system.
Partying can be a hungry business, so you might want to think about adding the BBQ (€12.50pp) and drinks services (€25pp for unlimited Beer, Sangria and Soft drinks from a fully-staffed bar) to your yacht. Otherwise, just kick back and enjoy the splendour of Ibiza from the comfort of her tranquil turquoise waters.
Daytime price for charter: 4 hours - €1595; 7 hours - €2950
Afternoon/Sunset price for charter: 3 hours - €1950; 7 hours - €3250
The Sailing Adventure:
Taking to the waters on a genuine 18m Ketch is a sailing experience to behold, revealing the power of the sea both literally and figuratively. With her unique black sails and rich teak decks, the Ketch cuts through the Mediterranean waters with sheer elegance on her way to Formentera, Es Palmador and other exciting locations around the island.
Her ruby red, sunshine yellow and antique gold interiors are as exotic as the seas she sails, making the saloon a warm and inviting place to just sit back and relax. The open style galley is fully equipped, and there are three spacious berths that have been lovingly restored. For those who prefer to be above deck, there are plenty of wonderfully rich-coloured sun cushions to relax on whilst enjoying a glass of bubbly and admiring the breath-taking panoramic view.
Price for charter: €1500 per day, including skipper, fuel and refreshments
Sunset Cruising:
The Don Giovanni is 12m of pure gorgeousness, perfect for a late afternoon and sunset cruise, and for dropping anchor in front of the Sunset Strip. Listen to some Ibiza classics on the sound system while you and ten of your closest amigos watch the sun dip below the horizon, and everyone on shore looks towards you with envy.
There is a large sunbathing platform with an enormous cushion on the bow for topping-up your tan, and swim steps for when you need to cool off. What's more, the Don Giovanni's handy cooler box will ensure that the champagne is always chilled to the right temperature and flowing freely. If you are feeling adventurous you could always take the snorkelling equipment out and go exploring under the water too, followed by a refreshing shower on-board.
Low season price for charter: €1100 – including skipper and all soft drinks
High season price for charter: €1250 - including skipper and all soft drinks
Pure Luxury:
When most of us think of hiring a yacht in Ibiza, we close our eyes and envision the Riva 70. Aptly named the 'Dolce Vita', this stunning yacht combines sleek Italian design with the ultimate in luxury and performance. Three sumptuous en-suite cabins – yes, en-suite - with plush interiors are at your disposal, and come in very handy if you decide to remain on-board for the night. Along with the fully equipped kitchen, there is a bar, dinette, TV and DVD player, just like a waterborne 5* hotel!
Above deck, on the bow, there is an enormous sunbathing area which is perfect for catching a few rays, or, alternatively, you can take refuge under the extendable sunshade and simply absorb the gorgeous view. And if all this wasn't enough to convince you to charter this gorgeous yacht around Ibiza, the addition of a Zodiac Project 350 rib should help seal the deal.
Day price for charter: €4500 - price including skipper. Fuel (€500p/h) and IVA not included
Overnight price for charter: €6000 - price including skipper. Fuel (€500p/h) and IVA not included