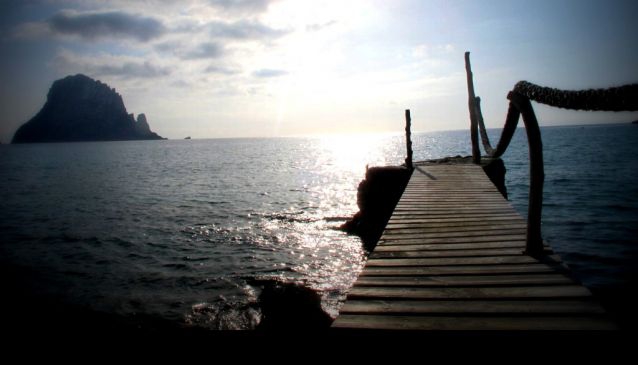 Beaches, Beaches, Everywhere!
Editorial
Es Cavallet: easy access to the sea and the place to be if you want to get your kit off
When you think of our small island in the Mediterranean, you expect the beaches to be great - and they are! No matter what side of Ibiza you find yourself on, the perfect beach is never too hard to find. Not all are long, sandy beaches; there are rocky coves down long, dusty dirt tracks that are worth checking out too, the perfect option for escaping the summer crowds. These are the finest Ibiza attractions, and if you have the time and the transport, we do recommend hitting as many beaches as possible - no two are ever the same! If however you are pressed for time, here is our selection of Ibiza beaches you really should try and get to, on all four sides of the island.
North
The beaches in the north of the island are rockier and the roads leading to them are a little bumpier, but gorgeous once you reach them.
Just before the town of
Portinatx
, there are 3 lovely little beaches all in a row: Cala Xarraca, S´Illot des Rencli & Cala Xuclar; small coves with transparent waters great for snorkelling.
San Miguel beach is ideal for families with children but quite honestly a nightmare as they're usually far too crowded. But follow the path to the left of the beach if you are facing the sea - this will lead you to Cala Des Moltons - an idyllic & tiny cove only about a 5 minute walk from the screaming children on the port of San Miguel beach.
Benirras is another "must see" beach in the north. Perfect for families, cool
kids
and aging hippies alike, this is the place to be. Great for swimming, snorkelling, kayaking or renting a pedal boat and making your way out to King´s Rock.
East
Most of the beaches in the east are great Ibiza family attractions, suitable for young children but rarely overcrowded. They all have small beach bars &
restaurants
on them, perfect for lunchtime snacks.
Aguas Blancas is a favourite among the locals and has two sides to it. The left hand side facing the sea could be called the family side, with a restaurant, shower and sunbeds, whereas the right hand side is more for the young & trendy. The little beach bar plays funky tunes all day long while the locals chat and do some body surfing or enjoy a rigorous game of bat & ball. Relaxing in the nude is no problem here.
Pou des Lleo - the actual beach itself is nothing special but the restaurants in this area are some of the best for a good paella and if you do a little exploring on either side of the beach, you will find some adorable fisherman's huts and rocky bays perfect if you´re looking for some peace & quiet.
Cala Nova is the answer to your all-in-one beach in this area. It is ideal for families, has a couple of trendy
Ibiza beach bars
, great restaurants, a long sandy beach, sunbeds, showers and is only minutes away from the town of Es Canar.
South
Towards the south of the island there are long beaches with golden sands great for peaceful walks in the winter, most of them with crystal clear waters and easy access to the sea. Also the perfect place for mooring your super yacht, as there are a number of very cool beach bars & restaurants all the way along.
Playa Den Bossa - it could be said that this is a beach for the younger crowd. There are beach bars/ clubs scattered all the way along it playing music throughout the day and you can usually spot groups of people who have clearly been out clubbing all night and are "sleeping it off" on the beach!
Es Cavallet - popular with the rich, famous and gay crowds as well as families. Trendy beach bars/ restaurants, easy access to the sea and the place to be if you want to get your kit off.
Ses Salines - This really is a beach for everyone! Perfect for families, the elderly, hipsters, youngsters, hippies and the elite. All amenities are available here, and there are some of the best beach restaurants in Ibiza!
West
It seems like every road you take here will lead you to a beautiful secluded cove, a long sandy beach, or the perfect rocky spot to watch the sunset from. Transparent waters, clean beaches, lovely
chiringuitos
and restaurants. If a romantic evening watching the sun sink in to the sea is what you want, then the west is the place for you.
Cala D´Hort
- It´s quite a long drive but within minutes on this beach you have forgotten all about it. Turquoise waters and spectacular views of
Es Vedra
are what greet you here.
Cala Conta - The sunset beach. Pick a spot, any spot, on this beautiful beach and if you´re still sitting there at sunset, enjoy! There are some amazing restaurants here too so if you haven´t packed a picnic, don´t worry!
Cala Saladeta - This beach is just past Cala Salada and a great option if Cala Salada is just too packed for your liking. If you can picture your favourite postcard with a beach photo on it, Cala Saladeta will probably be very similar. Golden sands and crystal clear, calm waters abound.
North, east, south or west, you will be at most beaches within half an hour of leaving your
accommodation
. There are however a few beaches that we recommend visiting that are slightly harder to get to or find.
Cala Olivera - A lovely little secluded bay with one tiny beach shack on it. There is a sandy section and a raised rocky part that is also used by sun lovers. The road down to this beach is a long, bumpy dirt track, beginning in Roca Llisa, right by the golf course. It is within an urbanisation, but just tell the guard you are going to the beach and he will let you through. This beach is in the south-east.
Cala Den Serra - Another long and quite windy road to reach this beautiful cove, but certainly worth the effort! There is also a little beach bar here so you can get a refreshing drink at any time. This beach is near Portinatx in the north of the island.
Punta Galera - Possibly the most beautiful sunset spot on the island! Punta Galera is not really a beach; there is no sand, no sunbeds, no beach bars, no parking and not even any signs to it. This is what makes it so incredible. Access to the large slabs of rocks here where people set their towel down for the day is particularly tricky, so be careful - if you can find somewhere to park your car beforehand that is! A peaceful & stunning place to relax and enjoy nature at its best, Punta Galera is a nudist beach with calm, clear waters but tricky access to the sea. Heaven!
The beach names used in this article are in Spanish and may vary slightly from the names you see on the roads, which are in Catalan - don't let this confuse you! Check out the map below to make sure you don't get lost.