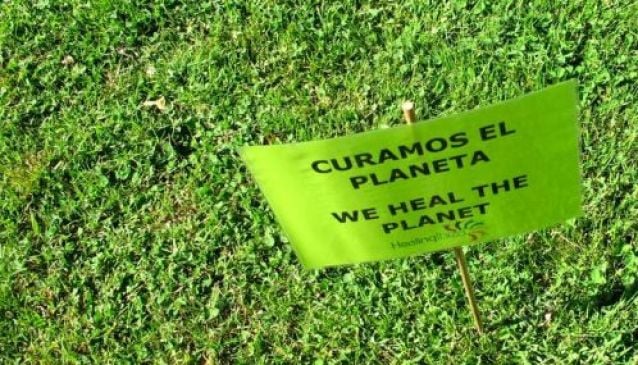 Healing Ibiza Day
Inspiration
a day on which people of all ages, from every corner of the world, gather...to make a difference
Our magical island can often send mixed messages to visitors and it is usually those with a strong head and a huge heart who most enjoy the peaceful yet rewarding lifestyle Ibiza offers. It is for this reason that the Healing Ibiza Day, held twice yearly, has become so very special. It is a day on which people of all ages, from every corner of the world, gather together to make a difference. This wonderful non-profit organisation is lead by a team of individuals who hold a warm place in their heart for the island and have a deep love of spiritual wellness. Although the actual day would not be possible if it weren´t for the many selfless healers and kind-hearted helpers volunteering their time, energy and ideas, the core group behind the Healing Ibiza Day is Cheryl Slater, Maralyn Poskitt, Jerry Brownstein, Alison Mackessack-Leitch, Toby Clarke, Ann Randrup & Javier Alcaraz. All entrepreneurs themselves, they still manage to find the time to give back to an island they love passionately and "are dedicated to raising global consciousness by bringing the awareness of natural healing and individual transformation to our beautiful island so that Ibiza becomes a shining example of humanity's highest potential."
Sponsoring an event that has become an island favourite, are of course some fabulous Ibiza businesses: Ibiza Spotlight, Ibiza Reiki, Alternative Ibiza, Walking Ibiza, Reconnection Ibiza, Buddha House, Soul Seed Media, Jerry Brownstein, DeTodo en Ibiza, Ibiza Love Story, Pure Reflexology, MyBestTreat.com, Baila y Medita Ibiza, Aarti and of course the stunning rural hotel and Spa, Atzaró, where the event is hosted. All proceeds after costs are used to promote positive programs here on Ibiza and past events have supported causes such as APNEEF, the Alzheimer's Association, Universal Mandala School, the Ibiza Preservation Fund, and the Samasound Association.
Healing Ibiza Day invites everyone to leave their worries behind and join a day filled with therapeutic treatments to heal the mind, body and soul. Working together as one, masters of Reiki, Bowen Technique, Reflexology, Holistic Massage, Reconnective Healing, Crystal Healing, Energy Medicine, Meditation, Qi Gong, Pilates and Yoga volunteer their time & knowledge of their trade to the public. Any one of these techniques may be enjoyed, discussed or just watched and it is a wonderful opportunity for all those novices out there or people hoping to become practitioners. A number of workshops can also be attended as well as readings and classes. The whole day is of course accompanied by incredible musicians also donating their time to make this already magical day even more meaningful through song, dance and instrumentals.

Education is key and Healing Ibiza Day is keen to encourage future generations to participate, again raising awareness from a very early age. The childrens´ area is always enormously successful with interesting activities, imaginative games, storytelling, hands-on arts & crafts, a chilliout area, music and a very relaxed yet entertaining atmosphere. The more inquisitive are also welcome to try out Yoga for children, deep breathing and meditation as well as making Dreamcatchers and learning about these sacred Native American Indian symbols.
Proceeds for the next Healing Ibiza Day on the 5th of May at Atzaró will go to APNEEF, a non profit organisation, that groups together boys and girls between the ages of 0 to 18 who have special educational needs & disabilities - physical, psychological, sensory and/or cognitive. Entry is by donation with a suggestion of 10€ and you will most certainly leave with an immense feeling of love, light and laughter, especially after spending the day taking in the many affirmations and mantras scattered about the place.
So please do "Live Your Life in an Extraordinary Way" and whether you are an island resident, a holiday maker or just passing through, take some time to be part of the Healing Ibiza Day, "a truly magical day to heal your body, nurture your spirit and nourish your mind".
Healing Ibiza Day is held every May & October. We looking forward to attending this peaceful day on the 5th of May at Atzaró Hotel & Spa, from 11am until 8pm and hope to see many of you there. Find more info about this event right here.