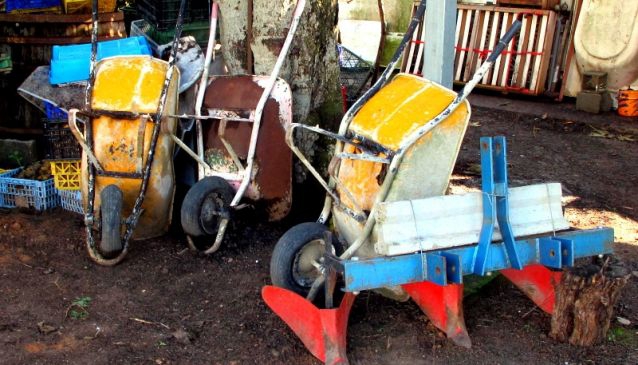 Get Down And Dirty With The Locals
Adventure
...it is not uncommon to see four young boys in wedding dresses, rolling around in the mud!
Autumn in Ibiza really is a spectacular time of year. First comes the much needed heavy rainfall after the long dry summer, drenching our fields and helping the grass to grow greener by the day. Next comes the feeling of relief as all the clubs and tourist attractions close. Then comes the cosy, wintry atmosphere as all the locals begin to organise winter events and activities and slowly but surely, the social winter scene begins.
Halloween is the first winter event and the perfect chance to let your hair down and go wild incognito. Many bars and restaurants go all out and the decorations are incredible, as is the atmosphere and the rest of the costumes. Aura Ibiza & Bambuddha Grove are two of our favourite Halloween Houses Of Terror.
The month of November is jam packed with cultural events and festivities, starting with the San Carlos fiestas. The whole town comes alive with stalls, fair ground games & attractions, church activities and much more. There are all sorts of different competitions and shows and of course fireworks on San Carlos Day. One of our favourite activities here is the Pages Festival. A tricky one to explain but so much fun to watch or even partake in. It is really just a gymkhana but all the obstacle courses represent a task of a farmers´ daily routine. The idea behind this festival is to keep tradition alive and as their slogan says, "this is one we´ll tell our grandchildren about!" One example is testing your skills at filling and directing a wheelbarrow through small, country paths without spilling your contents. The winners are the team that make it through all the obstacles in the fastest time possible and the whole show is hilarious. Team members must dress up, so it is not uncommon to see four young boys in wedding dresses, rolling around in the mud!
November is also the month of the Matanza in Ibiza. Quite a gruesome affair but a long lived tradition nonetheless and one that is passed from generation to generation in the Ibiza countryside. It is the slaughtering of farm animals for food. Every inch of the animal is used either for sausages or cured meats and the slaughter day is an event in itself from dawn to dusk. Family and friends join together and undertake the huge task of killing, butchering, cleaning & skinning the animal whilst eating, laughing and drinking out in the sunshine. An evening meal is prepared throughout the day and arroz de matanzas, a very popular Ibicencan dish, is a favourite. A bit of mingling with the local farmers is sure to get you an invitation to a matanza and it is definitely an impressive show to see and possibly one you will never forget!

Towards the middle of November, the Santa Gertrudis fiestas begin with a fantastic amount of live music, flower power parties, cultural shows and all the usual stalls and attractions, with entertainment for the little ones as well as tournaments & races.

December sees a personal favourite, a festival known as the Fiesta Del Vino, which is held every year in the tiny town of San Mateo. The local farmers who have spent a lot of time growing and nurturing their grape vines all get together to present their home made wines, or Vì Pagès, to the people of Ibiza. It´s an early evening festival and the atmosphere here is unbeatable, come rain or shine! Dozens of different wines just HAVE to be tasted and they are all FREE. Live music, open fires to roast your bread & sobrasada on and dancing - who could ask for anything more?!
So now you know a little bit more about what we get up to in Ibiza pre Christmas, keep it in mind and come for a visit. Let us know if you need any help or maybe even travel information.