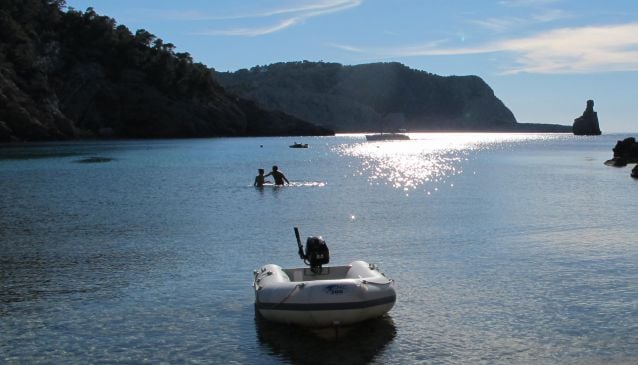 Fun in the Ibiza Sun
Adventure
The rock is shaped like a king sitting on his throne and is known as King's Rock
Ibiza campo life is beautiful - there is always a different fruit tree in bloom and long walks through the countryside are relaxing and inspiring. But the coast of Ibiza is something else entirely, and to truly experience Ibiza it must be seen from the sea as well as from land. If sunbathing becomes a little tedious and you love to explore and get your adrenaline pumping, here are some insider tips about where to find great caves, tunnels & rocks to jusp off while swimming around this fascinating island. Grab a mask and snorkel and you're ready!
If you're sitting on the beach at Aguas Blancas and are facing the sea, you will see two small islands ahead of you. The island on the right is great for jumping off as long as you keep your legs curled underneath you, as the water is not particularly deep. The island on the left, however, has a short underwater tunnel on its right hand side. Swim down about 1.5 metres until you are able to see an opening. If you look through the opening you will see the light on the other side. If you take a deep breath you will be able to swim through to the other side. Be sure not to kick too wildly though, as you may accidently kick the wall which could result in you touching one of the sea urchins that cling to the wall, and a sting from a sea urchin is not a pleasant experience!

Cala des Xuclar to Cala Xarraca
If you are on Cala Xuclar, facing the sea, swim out towards the left. You will shortly come to a huge cave opening which you can swim right in. You can keep your head above water all the way in and even stand up straight when you get there. Between this beach and Cala Xarraca, the next beach along to the left, there is nothing but rock. It is difficult to say exactly where this next little tunnel is, but if you keep swimming along, as close to the coast as possible, you will soon feel the water become very cold and a lot less transparent. This is where you will find a very short underwater tunnel that comes out into an open air pool in the rocks. Once inside, you will feel the cold even more and no doubt be amazed at how clear the water actually is. This is because fresh water comes down from the mountain and settles in this pool, mixing with the salt water. This is definitely worth experiencing if you love nature.
There are amazing caves on both sides of Benirras beach, so make sure you have plenty of spare time to spend snorkelling here. One of the most impressive caves is the one on the left if you´re facing the sea. If you swim to the rock on the left you have gone too far, but it is unlikely that you will do so. The cave is split in two at the opening but if you swim down a metre or two, you can swim from one entrance to the other underwater. You can swim right to the back of this cave with your head above water and then stand up on the rocks once inside.
While you're out there having fun, we also recommend climbing up the big rock in the middle of the bay and jumping off. The rock is shaped like a king sitting on his throne and is known as King's Rock. There is a rope on the left hand side which is well secured and can be used to help with the climb. The water surrounding the rock is deep on both sides but we suggest jumping from the left which is slightly lower and not quite as scary - and believe me, it looks much higher when you are standing at the top with trembling knees wondering why you ever thought it would be a good idea! Peddle boats, kayaks and zodiacs can all be hired for this outing if you don't think you're up to the swim.
Pop in to Elements Ibiza restaurant right on Benirras beach after a long day spalshing around in the sea, where you can enjoy the most delicious cocktails, tasty food and finish the day off watching the sun set behind King´s Rock - ahhh the perfect day!

Porroig
Just to the left of Porroig, almost at the end of the rocks, there is a very cool tunnel (big enough for a kayak to fit through if you lay back) that comes out near Es Xarco. You can swim through this tunnel too, either above water or underwater and it is a particularly wonderful experience, especially when the moon is full and flickers along the water's surface.

Cave snorkelling is only recommended when the sea is very calm and you should always go with a friend. If you are not a strong underwater swimmer, be sure to practice before attempting these caves and tunnels. Likewise, rock jumping can be quite dangerous so please be careful and make sure the area you are in is deep enough. Of course, always think about your safety before attempting anything of this kind.

The Ibiza Adventure Center is happy to take you on a tour of any or all of these caves or even arrange a kayaking trip for you. There are many more caves but hopefully these will get you started - please do tell about your favourite hidden spot and post any cave or rock jumping photos on our Facebook Page.